The procedures for setting up mobile devices in accordance with eduroam security standards is quite complicated. Besides being complicated, they vary from IdP to IdP (Identity Providers, i.e. educational institutions). Therefore a set of installers for popular devices and operating stsyems are available at eduroam.org site for each member institution.
To download and install eduroam installer(s) for your device(s), specifically prepared for Bilkent University, please visit https://cat.eduroam.org using your mobile device's web browser.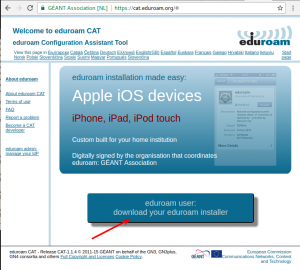 Click the "download your eduroam installer" button.
Select "Turkey" on the country list.
Start typing "Bilkent University" in the search box and click "Ihsan Dohramacı Bilkent University" button when it appears.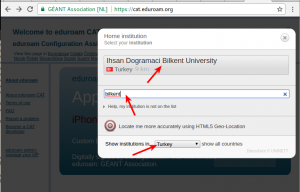 An installer suitable for your device will be offered. To see all platforms, click "All platforms" link.

Android users must first download and install the "eduroam CAT" application developed by GÉANT Association, from the Google Play Store. There are more than one applications available in the store with the eduroam logo. Please take care to download and install the one developed by GÉANT Association.
 
You will see a long list of mobile devices and operating system versions. Click the "i" button next to the one which suits your device to learn about the next steps of the installation process.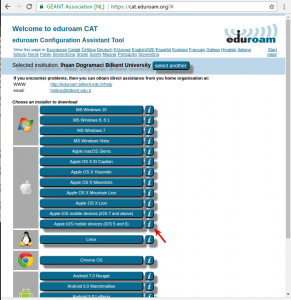 To test your installation, please go to a location where a eduroam WiFi network is available and connect your device to that network.
When prompted for your user ID and password, use your eduroam ID in the format nnnn@bilkent.edu.tr; where "nnnn" is either your student ID number or Bilkent personnel ID number. Use your STARS/BAIS password. If this connectin is successful, you can get connected to any eduroam WiFi network, anywhere.
Please note that you will have to repeat the whole installation process for each one of your mobile devices.